Stinky feet got you down? Not allowed to take your shoes off or open your dance bag in enclosed spaces? Yeah, us too. Never fear, Allegro is here! Read on to learn how to conquer the battle of foot odor!
We're all friends here, so let's get real for a second: dancers have smelly feet, shoes and dance bags. You and I both know it, so let's start talking about it.  What you need to know is that although it can be embarrassing, it is totally normal and happens to the best of us. It is even normal to have problems with it every once and a while, while others have this problem all of the time. Its caused by sweaty feet and the good news is that there are ways to prevent it!
Deodorant - Sounds kind of funny, but you can totally use the same deodorant you use on your underarms (well maybe not the exact same stick, but you get it). It does the same thing for feet as it does armpits -- helps with perspiration and smell. Secret makes this super cute one that you can get at drugstores to keep in your bag!
Wash your feet - Do this often, but especially after dancing! It is important for so many reasons!
Alternate your shoes - As dancers, we tend to wear the same shoes day after day, class after class, sweating in our shoes. It is the perfect storm for odor. We talk about the importance of alternating shoes with our Pointe customers in order to extend the life of the shoe. The same goes for ballet, jazz and tap shoes as well. When you alternate shoes, you're allowing them to fully dry before wearing them again, which helps prevent bacteria from building up in them. Obviously, if you only use your shoes once a week, this isn't as necessary.
Use a Mesh Bag - Using a mesh bag, or allowing your shoes a chance to breathe, not keeping them zipped up in your dance bag, again helps with bacteria build up. This one is especially important if you use your shoes less frequently because they're not coming out of your dance bag all that often. We love these colorful mesh bags from Pillows for Pointes (great for multiple pairs of shoes or larger shoes such as tap) or this cool version from Forever B!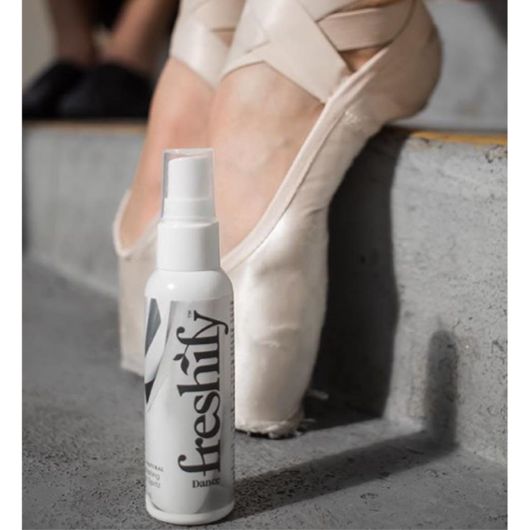 If you're looking for a great all-in-one product, the Allegro Team recommends Freshify! Made with "a winning combination of powerful essential oils," Freshify has a natural antibacterial, antifungal, and antiseptic properties. This means that it helps when you spray it on your feet before and after dancing, exercising or anytime your feet might get a little extra sweaty. It has a cooling affect when sprayed, so it is super refreshing to use when your feet are hot and a little swollen after dancing. It also doesn't have any harsh chemicals, so it is safe in case you actually get it on a blister or cracked skin (like many of us dancers have on our feet). It doesn't hurt that it smells delicious, so no one will mind when you go a little crazy with it in the dressing room! Freshify can be purchased at Allegro online or at either boutique location!