Posted on
By Allegro Team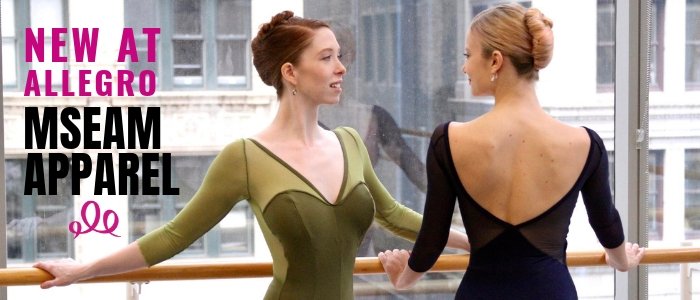 Gorgeous designs named after characters from favorite books, stretchy, supple mesh, jewel-toned nylon fabrics and hard-to-find sizes are what make MSeam Apparel stand out from the crowd. Small tall? We've got it! Supportive enough that you don't need a bra? Check! This new brand is what we've been waiting for!
As a for dancers, by dancers company, nothing makes us happier at Allegro than seeing dancers' dreams come to life! That's why we're over-the-moon excited about our newest line, MSeam Apparel. Creator Jacqueline Moscicke began the line to develop a leotard with better bust support that made her still feel pretty and elegant. From there, she began making other styles with similar unique specifications such as small, long leotards for dancers needing more length in the torso.
We could go on and on about Jacqueline and her line, but instead, we thought it would be more fun if she told you! Check out our video series below to hear from Jacqueline herself about why she created the line (a wonderful story about overcoming an injury and finding passion outside of a dance studio), a little bit about her dance career (it's been an amazing one so far!) and an introduction to her styles (including her two Allegro exclusives).
Allegro is proud to be one of her first retailers and to celebrate she has created to Allegro-exclusive leotards! Currently, you will find the two Allegro-exclusive leotards, the Daisy and the Kitty, available only at both of our brick and mortar Allegro locations, but the Princess leotard, Phoebe tank and mesh leggings are available in store and online!